Transcend Your Gaming Rigs Into The Next Gaming
Dimension and Prepare For Yourself For An Unprecedented Thrill Ride.
Introducing GT75VR Titan, GE63VR/73VR Raider, and GS63VR/73VR Stealth Pro!
[Taipei, Taiwan] Gamers' top choice and the leading gaming brand MSI, will be offering three weapons of choice for gamers. GT75VR and GE63VR/73VR Raider will be packing some serious tech-leading upgrades; and while the GS63VR/73VR were already industry's finest, they have also been given an upgrade that will leave the GS uncontested. The Next Gaming Dimention from now!
GT75VR Titan, New Rapid Mechanical RGB Gaming Keyboard
Upon first glance, the exterior retains its aggressive muscle tone and futuristic vibe, added with the signature red-trimmed ventilations in the rear. It isn't until you open the top to unveil the first of its kind, this is truly a revolutionary keyboard that took countless research and development and resources to develop and implement into a smaller gaming laptop compared to the GT83VR. And to add icing on the cake, the arrow-shaped palm rest is just slightly elevated for a newfound comfort.
Per-Key RGB Mechanical Keyboard Brings A New World to Gaming Experience MSI latest unique design of Rapid Mechanical Keyboard is a kind of evolution of the GT keyboards, surreal tactile feedback, and radiant RGB backlit under every key that creates infinite illumination possibilities.
Besides having a greater visual, the typing and force feedback are the signature traits of a "Mechanical Keyboard"; MSI implement special design in cooperation with Steelseries and keyboard maker, created a Rapid trigger switch with stronger feedback, higher durability, and solid platform for this new design of MSI top level notebooks.
Greater Gaming Power and Better Features Upgraded
The GT75VR Titan comes with 3 GPU options: GeForce GTX1080, GTX1070 SLI, or GTX1070 and powerful Core i7 7820HK CPU with over 4GHz overclock capability. The cooling module is still regarded as industry's finest and biggest with the Cooler Boost Titan; and along with other gaming features such as the True Color Technology 2.0, NAHIMIC VR, MSI unique 120Hz Display of HDR color for gamers and HDR video editing experience, The Dragon Center, and much more have been carried over and improved in the GT75VR. MSI has raised the bar yet again on this one, and it is ready to take the world by storm.
Ride the Enthusiast Gaming Experience Easier with GE63VR/73VR Raider
The typical GE series has been an all-time favored by gaming enthusiasts since its inception. But this year, the brand new GE63VR/73VR Raider have been given brand new designs and weaponry inspired by exotic sports cars; with more angular appeals, looking like a true game changer to enthusiastic gaming.
New Cooling, 3ms 120Hz Screen, Keyboard, Giant Speakers, and they just keep coming
GE63VR/73VR Raider will be available in both 15'' and 17'' display design, with GEFORCE GTX1070 and boost OC ability. But what about the new weapons you ask? The muscle lines and the protruding curves in the middle give it a much sportier vibe as the red-emitting lines on each side provide a subtle novelty.
The latest Per-Key RGB Gaming Keyboard by SteelSeries is a brand new feature allowing users to customize RGB on every key. Cooler Boost 5 as the new addition in the family of Cooler Boost Technology, industry's finest and most advanced thermal module at this segment. Fastest 3ms 120Hz panel with 94% NTSC Color Gamut for much smoother and sharper HDR ready visuals.
World's Wildest Sound Quality Ever on the Thin & Powerful GE gaming Laptops
For the first time ever, MSI is implementing latest Giant Speakers enhanced by Dynaudio inside a gaming laptop, a full-sized chamber that is 5x bigger than any regular design; speakers also 2~3x bigger than others at this level of notebooks. Over 50% enhancements on audio quality, sound detail and volume, and is truly a breakthrough for gaming laptop speakers. It produces over 105dBA in a smaller chassis and slimmer body than previous GE platform, but still provides the new GE series with an unprecedented audio immersion unlike any we've experienced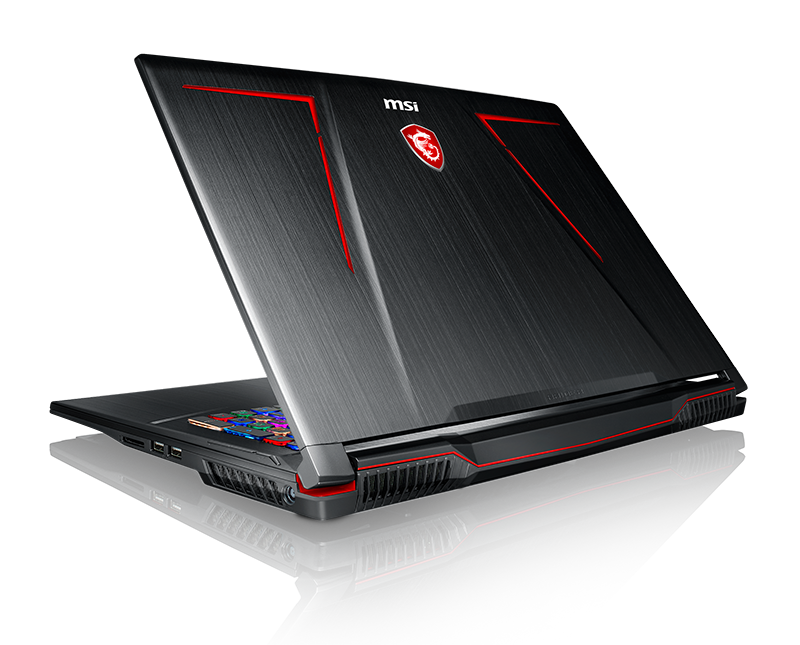 MSI GE63/73VR Raider is pushing the envelope with countless new features and gadgets, and a complete new look on the GE classic ranging from its brand new Si-Fi style ID, speakers, panels, cooling, and keyboards. Experience the thrills of advanced gaming through the whole new GE63/73VR Raider. All the new features and design looks conflict to be smaller by different design concept, but MSI's RD team made mission impossible become reality!
GS63VR/73VR Stealth Pro, World's slimmest gaming NB with GTX 1070 graphics and 3ms 120Hz display
Weighing just 1.9kg, MSI GS63VR Stealth Pro is the lightest 15" gaming laptop that retains the finest cooling, Cooler Boost Trinity and GeForce® GTX 1070 graphics, with world's fastest 120Hz/3ms display and vivid HDR color range for best gaming experience, the extreme computing performance and outstanding gaming features into a 17.7mm ultra slim chassis, which is even slimmer than some Ultrabooks, but with power to run the latest titles
The Cooler Boost Trinity on GS63VR Stealth Pro consists of 5 heatpipes and enhanced Whirlwind Blade fans for effective and silent heat dissipation. With Steelseries keyboards and SteelSeries Engine 3, gamers could play games with their preset macro keys to win their games faster. ESS SABRE HiFi brings 24bit/192kHz Hi-Res Audio that makes gamers have greater sound experience.
The GS73VR Stealth Pro utilizes high density aluminum alloy to form the main body. The delicate brushed metal mixed with elegant full-arc shape evolves new gaming style. With new GeForce® GTX 1070 graphics, 120Hz/5ms of vivid HDR colorful display and Cooler Boost Trinity cooling solution, the GS73 delivers stellar performance in the heat of battle. Moreover, it equipped with powerful gaming features, including SteelSeries gaming keyboard, SteelSeries Engine 3 software, True Color Technology, ESS SABRE HiFi Audio, Nahimic 2 Audio Enhancer and more, all in an ultra slim chassis.
MSI GAMING: https://www.msi.com/
MSI Facebook: https://www.facebook.com/MSIHQFANCLUB
MSI Twitter: https://twitter.com/msitweets
MSI YouTube: https://www.youtube.com/user/MSIGamingGlobal
Original Post By – MSI